A Little History...
The De Smet Flowers & Gifts store is the original building of Mary Powers' tailor shop. The Loftus Store and De Smet Flowers are the only original buildings on Main Street from the 1800's.
It is now a unique floral and gift shop. Inside, find home decor items, furnishings, candles, gifts, fresh flowers and blooming plants. The store is combined with ladies' fashionable fashions. This is a must-see stop when visiting De Smet.
Chad Kruse Biography (Owner, Certified Florist)
I am a floral designer with a lively imagination, who relishes a challenge. Every occasion demands a different solution and receives my personal attention from start to finish.
I actually got my start when I was a sophomore in high school. I began with dusting and watering plants a couple days a week after school. My senior year rolled around and I was asked to do some simple vase arrangements which consisted of 1, 2 or 3 carnations in a vase. I was so excited. I cranked out vases left and right, put them in the cooler and was so proud. The next day my boss took me into the cooler to show me my vases and all my flowers were wilted. I had forgotten to put water in the vases, oooops!!!
Upon graduating May of 1986, I went to Brainerd Area Vo-tech in Brainerd Minn. I graduated at the top of my class in May of 1987. I returned home and began to work for my pervious boss and on July 13, 1987 we bought the business. I have been here and loving every minute of it ever since.
I am a Floral Expert. A South Dakota Certified Florist. Beginning in the fall of 2016 through the spring of 2018 I will be the president of the South Dakota Florist Association. That makes it 8 years that I will have served on the board.
If you are looking for a floral artist, you have come to the right place. De Smet Flowers is De Smet's Premier Florist.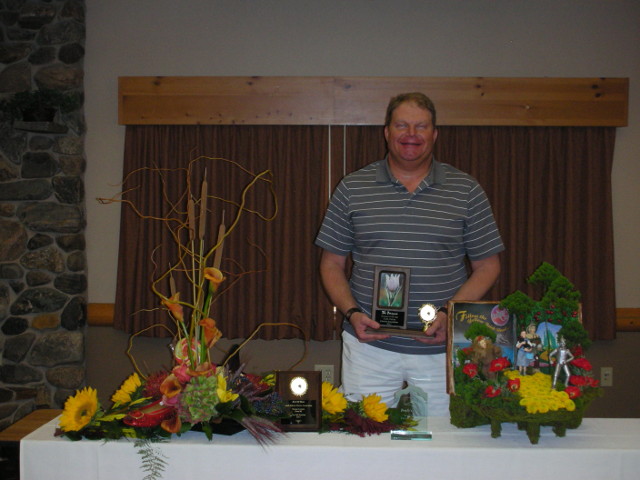 Chad at the 2013 SDFA design contest (First place in Judges Choice, First place in the design off and People Choice)
De Smet Flowers & Gifts
207 Calumet Ave SW
De Smet, SD 57231
605-854-3773
Send us an email.
Monday - Friday:
9am to 5:30pm
Saturday:
9am to 3pm
Sunday:
Closed

In addition to De Smet, we service several surrounding communities: Lake Preston, Willow Lake, Bryant, Lake Norden, Iroquois and Erwin South Dakota. The delivery charges will vary depending on how far we need to travel and the order details.